BARENBOIM - SAID AKADEMIE AKADEMIE
PIERRE BOULEZ SAAL SAAL
PIERRE BOULEZ SAAL ONLINE
Explore
Calendar
Masterclasses with Daniel Barenboim
Online Membership About us Get in touch
E-Learning Course Arabic Music
en
de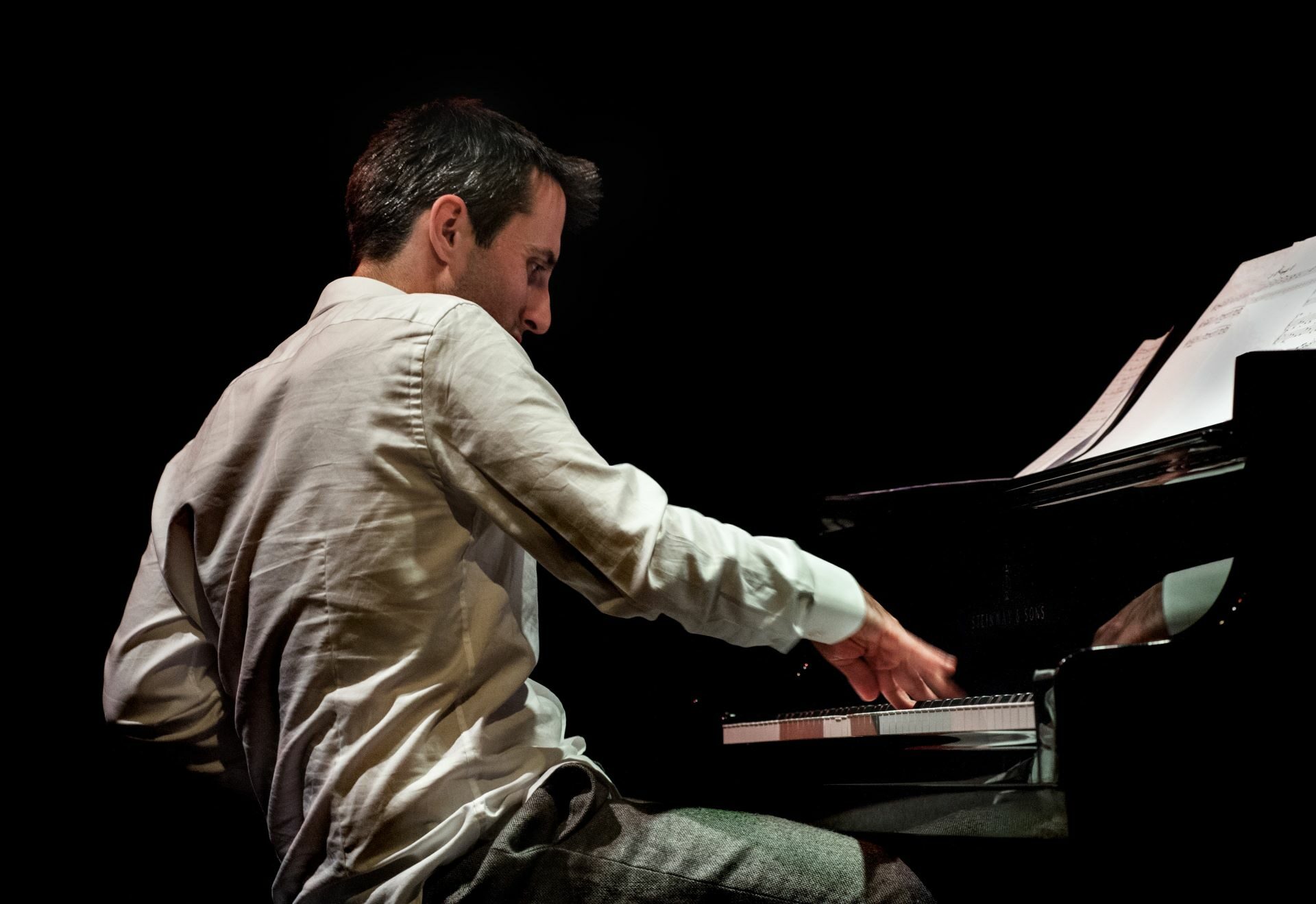 Alexander Hawkins

Ft. Sofia Jernberg, Nicole Mitchell, Tomeka Reid, Gerry Hemingway, Matthew Wright

Musical Performance Improvised Music & Jazz 1
British pianist and composer Alexander Hawkins brings two very different, yet complementary aspects of his musical vision to Berlin for his Pierre Boulez Saal debut. His duo Musho, with Swedish vocalist Sofia Jernberg, takes diverse folk traditions as its starting point, reimagining songs from Ethiopia, Armenia, Sweden, and other countries to create an unusual and personal sound world. For the evening's second set, Hawkins and Jernberg are joined by three acclaimed musicians—all bandleaders in their own right—to present the world premiere of newly composed music, commissioned by the Pierre Boulez Saal, in which the hall's natural acoustics and unique architecture blend with subtle processing and spatial diffusion created by sound designer Matthew Wright. The concert is presented as the kick-off event for and in cooperation with Jazzfest Berlin, which opens November 3.
In Cooperation with Berliner Festspiele / Jazzfest Berlin

The audio livestream will be open to the general public. The audio recording of the concert will be released at a later date available to members of Pierre Boulez Saal Online only. Learn more about our new online membership!
Who
Gerry Hemingway
, Percussion
Matthew Wright
, Turntables. Live Sampling, Sound Design
This evening's program is in two parts. The duo Musho was born in 2016, when Sofia and I were invited to perform a short set together at the Bimhuis in Amsterdam. Given her experience performing with Hailu Mergia, and my own with Mulatu Astatke, a program of Ethiopian songs seemed an intriguing starting point that night. Those songs have remained in our repertoire, which has since expanded to include (among other things) music from places such as Armenia and Sweden. For me, the near-unbreakable identity of these materials is both a gift and a fascinating challenge to the performer. "Musho" is an Amharic word meaning something like "sad song" or "song of lamentation."
Musho presents an often very spare music, and one which I hope will resonate in a special way in the renowned natural beauty of the Pierre Boulez Saal acoustic. By contrast, I have designed the newly commissioned works that form the evening's second set to explore the immersive possibilities offered by the hall's particular dimensions and sound system. By processing and moving the sound around the hall in creative ways, I hope that we will by turns be able to do things such as augment, complement, or even occasionally disguise the natural properties of the space. This set of compositions is essentially modular, and while there are "family resemblances" between certain clusters of material, what unites it all is a concern for repetition in various guises.
The sextet heard in this second set is crisscrossed by various existing musical relationships. For example, I have previously performed in duo with each of the acoustic instrumentalists; and Sofia and I have both performed in separate trios with Nicole and Tomeka—who themselves have a long history together. I have performed Matt's music, and he has performed mine; and we have worked together on repertoire by Anthony Braxton, a musician with whom Gerry's tenure is of course iconic. My hope in bringing together this ensemble is to pair the empathy and understanding that comes from these existing relationships with the sense of discovery that will come from the fact that this particular constellation is entirely new. All that remains for me to say (at least in text rather than sound) is that each of these musicians on stage is a constant source of inspiration to me, and for that I am extremely grateful to them—as I am to you for coming to hear our music.
—Alexander Hawkins
Alexander Hawkins
The work of composer, pianist, and organist Alexander Hawkins reconciles free improvisation with composition and structure. Alongside his profile as a soloist and bandleader, he can be heard live and on record collaborating with many artists of all generations, ranging from Evan Parker, John Surman, Wadada Leo Smith, Mulatu Astatke, and Han Bennink to the likes of Rob Mazurek, Matana Roberts, and Shabaka Hutchings. Particularly notable is his decadelong relationship with the legendary South African drummer Louis Moholo-Moholo.
Sofia Jernberg
Born in 1983, Swedish experimental singer, composer, and improviser Sofia Jernberg grew up in Ethiopia, Vietnam, and Sweden. Interested in the instrumental possibilities of the voice, her musical vocabulary includes sounds and techniques that often contradict a conventional singing style, such as split- tone singing. She has been heard in music theater works such as Arnold Schoenberg's Pierrot lunaire and Salvatore Sciarrino's Lohengrin as well as the film Union of the North by Matthew Barney, Erna Ómarsdóttir, and Valdimar Jóhannsson, and has collaborated with visual artists including Camille Norment.
Nicole Mitchell
Nicole Mitchell is a flutist, composer, bandleader, and educator. Initially emerging from Chicago's innovative music scene in the late 1990s, she currently leads a number of groups, including Black Earth Ensemble. She has also regularly appeared alongside artists such as Ballake Sissoko, Bill Dixon, and Geri Allen and performs with the Art Ensemble of Chicago. Widely commissioned as a composer, she is a recipient of the Herb Alpert Award, the 3Arts Award, and the Doris Duke Artist Award, and in 2018 was named Champion of New Music by the American Composers Forum. She was president of the Association for the Advancement of Creative Musicians.
Tomeka Reid
Cellist and composer Tomeka Reid has emerged from Chicago's jazz and improvised- music scene. Now based in New York, her distinctive melodic sensibility, braided to a strong sense of groove, has been featured in many distinguished ensembles over the years. Alongside her profile as a bandleader for the Tomeka Reid Quartet and Hear in Now, she has collaborated with musicians of several generations, including Anthony Braxton and Roscoe Mitchell, with whom she currently works in the Art Ensemble of Chicago. Earlier this month she was named a MacArthur Fellow.
Gerry Hemingway
Drummer and composer Gerry Hemingway has led a number of quartets and quintets since the 1980s and has been a member of groups including BassDrumBone, Brew with Reggie Workman and Miya Masaoka, a trio with Georg Gräwe and Ernst Reijseger, as well as duo projects with Marilyn Crispell, Samuel Blaser, Thomas Lehn, Ellery Eskelin, and Jin Hi Kim, among many others. He played with the Anthony Braxton Quartet for 11 years. The recipient of numerous commissions for chamber and orchestral works and a Guggenheim fellow, he has collaborated with some of the world's most renowned improvisers and composers including Evan Parker, Cecil Taylor, Mark Dresser, Anthony Davis, Derek Bailey, Wadada Leo Smith, Frank Gratkowski, and Simon Nabatov.
Matthew Wright
Matt Wright is a composer, producer, and sound designer based in Kent. His diverse output includes avant electronics, chamber composition, and collaborations with dance, theater, and film. He has performed with artists and ensembles including Evan Parker, Peter Evans, Ikue Mori, Claron McFadden, Neil Charles, Elaine Mitchener, Alexander Hawkins, B'Rock Orchestra, Spring Heel Jack, and Ensemble Klang, among many others. He was musical director for the world premiere production of Lee Hall's Network at the National Theatre in London, starring Bryan Cranston.