BARENBOIM - SAID AKADEMIE AKADEMIE
PIERRE BOULEZ SAAL SAAL
PIERRE BOULEZ SAAL ONLINE
Press Social Media

Log in

Ticket Shop Agency Shop Concerts All Events Season Highlights Boulez Ensemble Past Events Tickets and Service Ordering Tickets Seating Charts & Seats Special Offers Packages Guests Under 35 Catering Gift Certificate About the Hall Vision 360 Degrees: Salle Modulable Pierre Boulez Barenboim-Said Akademie Building the Hall History Plan Your Visit Getting There and Opening Hours In the Vicinity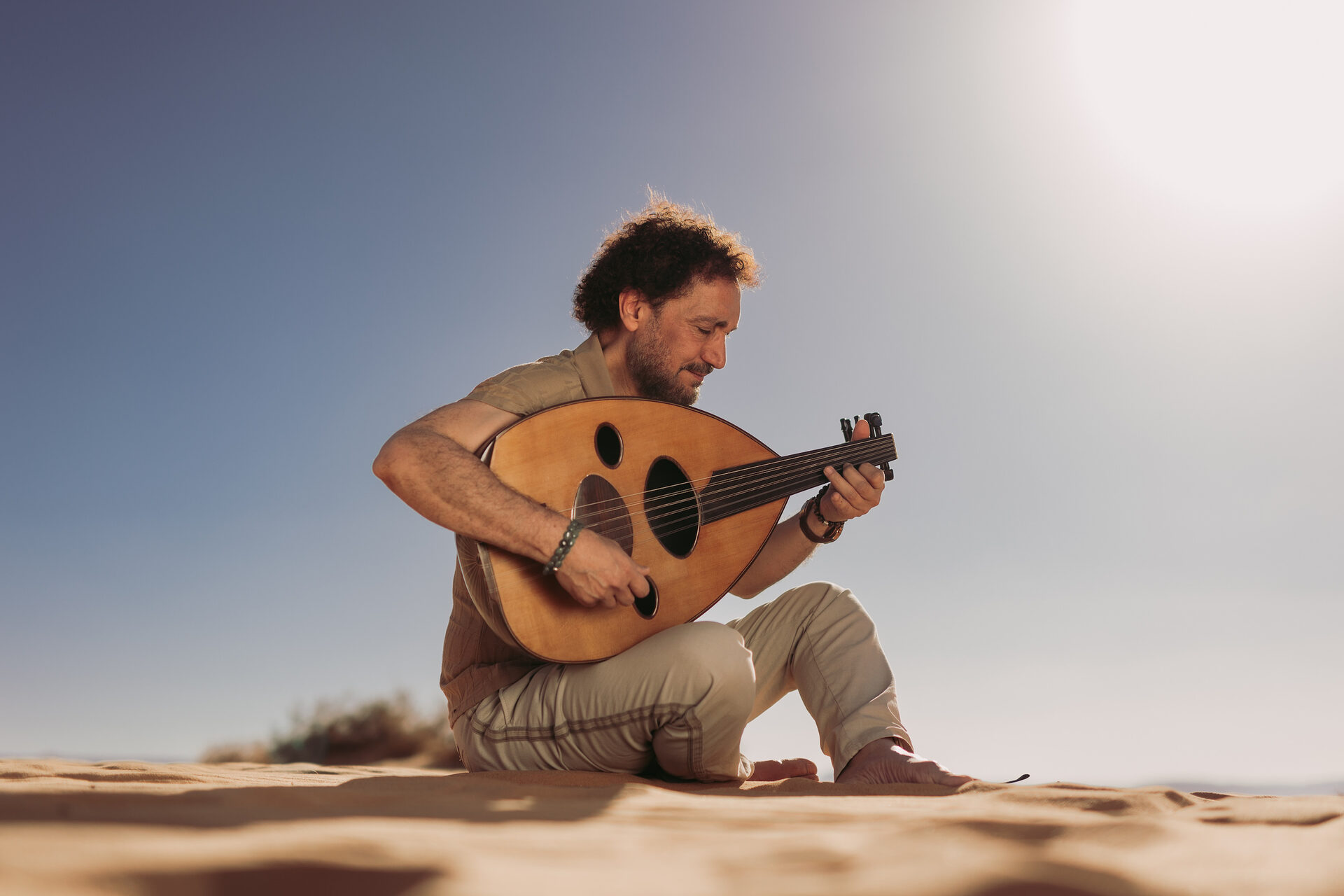 Arabic Music Days Music, Visual Arts, Poetry, and Film
ARABIC MUSIC DAYS SEPTEMBER 13 – 17
Naseer Shamma, curator of Arabic Music Days and one of the leading virtuosos on the oud, has played a pivotal role in promoting his instrument around the world. The "Oud Houses" he established across the Arabic world have paved the way for the next generation of musicians. For the 2023 Arabic Music Days, Shamma has invited fellow oud players and ensembles consisting of students and teachers from the Oud Houses in Cairo, Abu Dhabi, and elsewhere. An extensive program of film, literature, and visual art provides additional perspectives of contemporary Arabic culture.
In an open workshop, luthiers will provide insights into the craft of oud-making (Mozart Auditorium, Friday–Sunday from 4 pm). An exhibition presents works by Emirati visual artist Azza Al Qubaisi. With references to the culture and nature of her homeland, her sculptures made from gold, silver, wood, or steel reflect different aspects of her identity (room 121, Friday–Sunday from 4pm). Poets Fowziyah AbuKhalid (Saudi Arabia) and Lorca Sbeity (Lebanon) will accompany the concerts with readings of their works. (The poems are available in the original Arabic as well as German and English translations here.)

All visitors of the Arabic Music Days will receive online access to stream Iraqi director Ahmed Yassin Al Daradji's film Hanging Gardens on the Pierre Boulez Saal's digital platform. Set in post-war Baghdad in the 2010's, it tells the coming-of-age story of 12-year-old Asad and his older brother.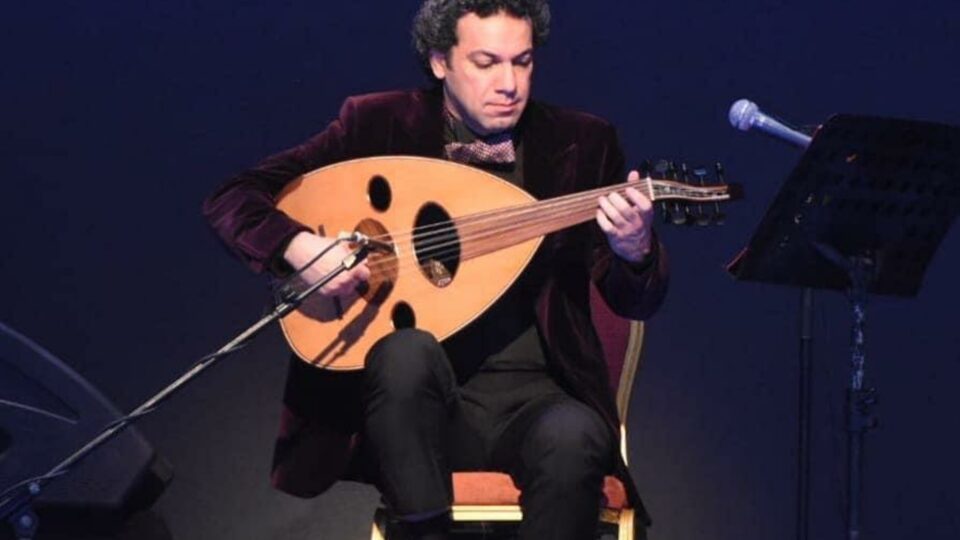 AHMAD SHAMMA QUARTET Arabic Music Days more Wed, 13 September 2023 Price: 45 € - 15 € Buy ticket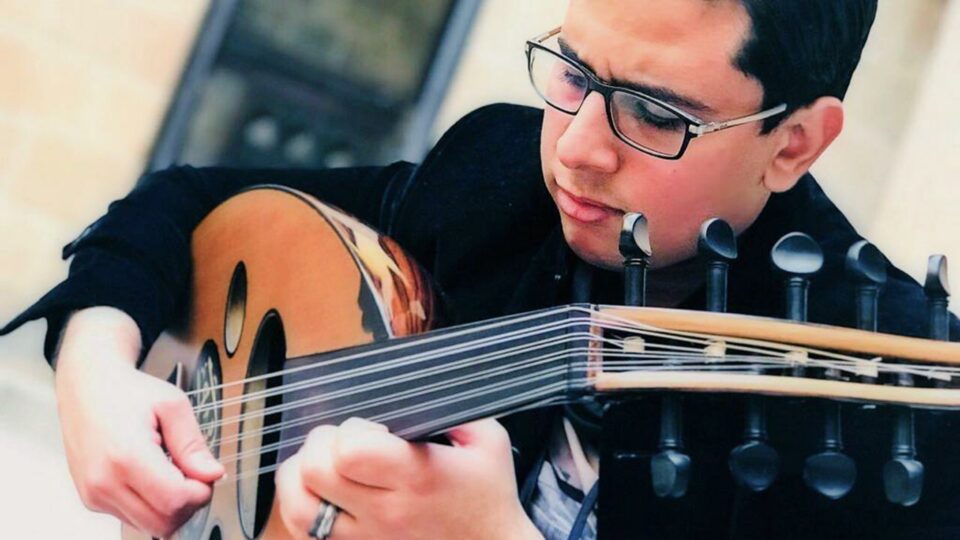 ISLAM TAHA & THE CAIRO OUD HOUSE TRIO Arabic Music Days more Thu, 14 September 2023 Price: 45 € - 15 € Buy ticket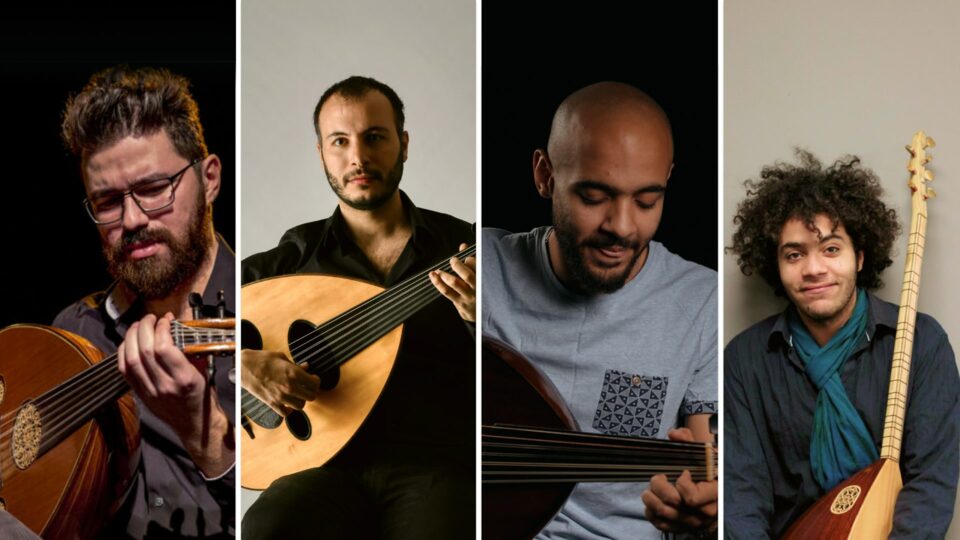 EUROPE OUD QUARTET Arabic Music Days more Fri, 15 September 2023 Price: 45 € - 15 € Buy ticket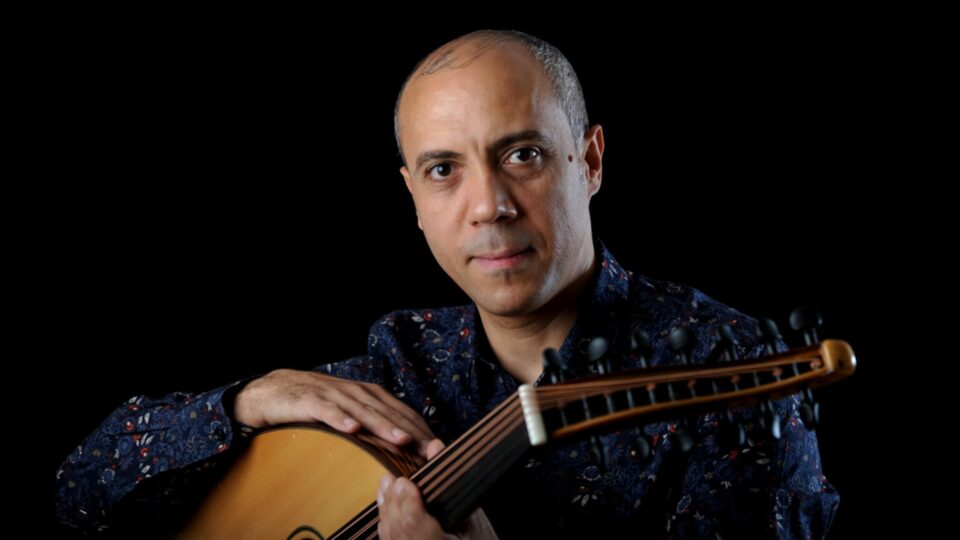 NEHAD EL-SAYED QUINTET Arabic Music Days more Sat, 16 September 2023 Price: 45 € - 15 € Buy ticket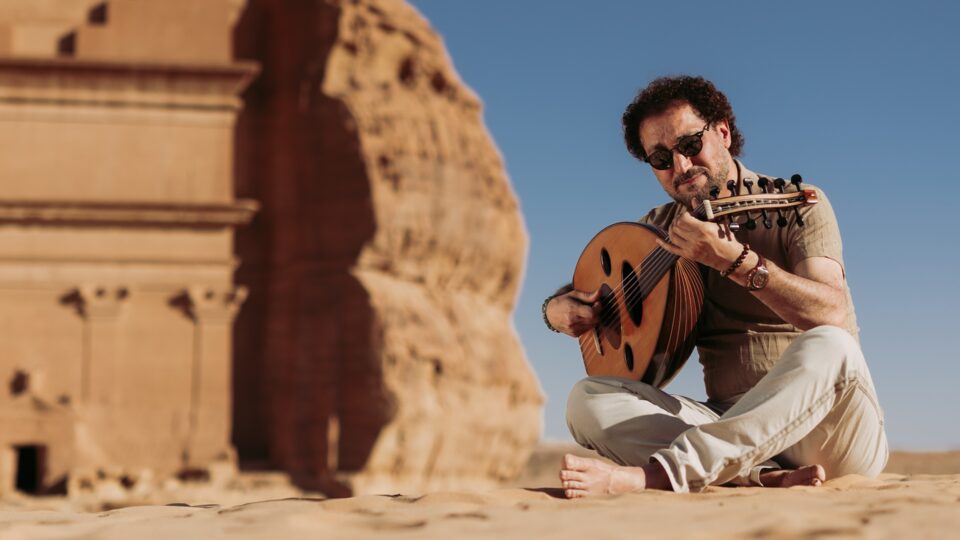 NASEER SHAMMA & MEMBERS OF THE 2350BC ORCHESTRA Arabic Music Days more Sun, 17 September 2023 Price: 55 € - 15 € Buy ticket
WHY YOU SHOULDN'T MISS THIS
Never heard of the oud?

Trust us: after attending the Arabic Music Days, you'll be an oud expert. The short-necked lute—known as the "queen of Arabic instruments"—has played a central role in musical life throughout the Arabic-speaking world and beyond for centuries. It sparked the development of a multitude of performance styles and is the ancestor of a number of stringed instruments, including the European lute. It has also found its place in jazz and pop music, a notable example being Led Zeppelin's Kashmir. During the Arabic Music Days, you will get to know the oud in all its facets, played by some of the world's leading virtuosos including festival curator Naseer Shamma.
You're already an oud expert?

Learn more about the Oud Houses founded by curator Naseer Shamma. These are centers both for training the next generation of oud players and furthering the development of the instrument itself. Short video documentaries that you can watch here introduce a group of Oud House students and graduates, many of which will perform live at the Pierre Boulez Saal. During the Arabic Music Days, luthiers from the Cairo and Abu Dhabi Oud Houses will share insights into the art of making the instruments.
Do you sometimes find it hard to sit still during a concert?

Then you shouldn't miss experiencing the truly unique atmosphere at the Pierre Boulez Saal during the Arabic Music Days. Captivating musical performances in combination with the hall's intimate setting create thrilling musical moments that won't keep you in your seat.
Interested in contemporary Arab culture beyond music?

The Arabic Music Days offer a contemporary panorama of Arabic culture: as part of the concert performances, poets Fowziyah AbuKhalid (Saudi Arabia) and Lorca Sbeity (Lebanon) will read from their works, and an on-site exhibition presents sculptures by Emirati visual artist Azza Al Qubaisi. Ahmed Yassin Al Daradji's 2022 film Hanging Gardens will be available for online streaming exclusively to all festival visitors. Last but not least, our catering partner Casalot once again offers its delicious selection of dishes of Arabic cuisine.
Ever heard an entire oud orchestra?

No? Then you should join us for the Arabic Music Days' final concert on September 17, when Naseer Shamma takes the stage himself together with friends and former students.
visual arts, poetry & film
AZZA AL QUBAISI
VISUAL ARTIST
Click on "CC" for subtitles
HANGING GARDENS
AHMED YASSIN AL DARADJI
Subtitles will be available soon
creating moments of beauty Naseer Shamma
Quite a few years have passed since I first walked into the auditorium of the Pierre Boulez Saal, while it was still under construction. I was immediately in awe of the architecture and of the idea behind the hall's elliptical shape, as Ole Bækhøj, its director, was enthusiastically explaining it to me. The floor area was covered in nails, and we were wearing special shoes and protective gear. Even so, in that moment my mind drifted away and I began to imagine myself center stage with my oud. The stacks of building materials that surrounded us became lifelike and delicate. Not much later I was indeed sitting on that stage, surrounded by an audience that seemed to exude the same kind of warmth as the hall itself. I wondered then whether it was the listeners' souls that were affected by the space or vice versa. My relationship with this hall began before the building was finished, and for me it has always constituted a particularly beautiful and warm space. This does not extend just to the hall itself, its curved shapes, its comfortable chairs, its warm wood colors, but also to the people who work here. I feel a gentle spirit whenever I am in this room. I have had many musical and personal experiences in the hall since that first day, and the audience has always made me feel very much at home—almost as if they were guests in my own home. I think it is this idea that the Pierre Boulez Saal was built on.
With the Arabic Music Days, we have presented a number of programming ideas over the years. I wanted to give Berlin audiences, who have a great interest in culture, the opportunity to learn about different aspects of Arabic music, artistically and culturally. This festival is an expression of my belief that art cannot be divided. Music is poetry and poetry is music, painting consists of colors and shapes, just as music does. Film represents life itself, as does music.
Under the banner of the Arabic Music Days, these arts all come together to create a wonderful melody. While these last few years have gone by quickly, my memories of the moments that have been shared on this stage continue to expand. We have always striven to present distinctive programs and aspects of Arabic culture, and these past examples keep inspiring creativity and beauty. Five years have passed since that first concert I played here. I am grateful to the Pierre Boulez Saal audience for embracing me and our festival, and I embrace each and every audience member. Artists draw inspiration from the spirit of those around them. We must never forget that all art is always an exchange—it cannot be isolated, and it only comes to life when there is a public to receive it.
Naseer Shamma
This festival is an expression of my belief that art cannot be divided. Naseer Shamma, Curator of the Arabic Music Days